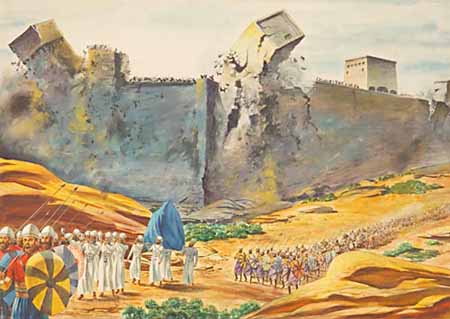 The conquest of the Canaanite city of Jericho by the second generation of the First Exodus of the Twelve Tribes of Israel under the leadership of Joshua is one of the great miracles recorded from early Israelite history (Josh.5:13-6:23) and is of immense prophetic significance.
The Jericho March began on Rosh Chodesh, the first day of the Second Month (around April/May in the Gregorian Calendar), and lasted seven whole days. The following or eighth day was a Sabbath day of rest and provides one of the best pieces of historical evidence for the veracity of the Luni-Solar Sabbath and the Biblical Creation Calendar - see The Sabbath Day at Jericho: Important Clues from a Famous Battle.
The malak (angel, messenger) in charge of this battle was none other than the pre-incarnate Messiah (Josh.6:2; cp. 5:15 & Ex.3:2,5) to whom Joshua fittingly showed obeisance in reverential worship. He is therefore a type of the living and ongoing Commander of all true born-again and Torah-obedient believers, His drawn sword indicating supernatural victory for the Overcomer.
Messianic Evangelicals as true New Covenant Israelites acknowledge Yah'shua the Messiah (Jesus Christ) as the ever-present Commander in all their battles on both planes of existence, physical as well as spiritual. We take inspiration from this event in our spiritual warfare, taking up the sword of the Ruach haQodesh (Holy Spirit) and of the Davar Elohim (Word of God) and of the Emet (Truth) at the beginning of every second biblical month - and at other times as directed - to execute Yahweh's instructions.
This register is a record of some of our doings at this time of the year.