"Then Midianite traders passed by; so the brothers pulled Joseph up and lifted him out of the pit" (Gen.37:28, NKJV).
It seems that our governments are not the only people who should be caring for us that we have to be careful of these days. A couple of weeks ago we were working with a lady who had some problems that she had sought deliverance from with a well-known 'deliverance minister' in the USA and afterwards was ten times as worse than when she was when she first went to him.

Now, don't misunderstand me. I am not at all decrying the incredibly important work of deliverance ministry. The Body of Messiah is crying out for experienced deliverance ministers because so many people are messed up and living in desperation. There has never been a need for more healing than now and it is going to get worse as the world becomes more and more dysfunctional. The trouble is, there are many well-meaning ministers who want to help but who just aren't equipped for the job, and like unqualified and inexperienced doctors often end up doing more harm than good. And the same is true in the psychiatric profession too where unlike psychologists, who used to take time and make a protracted effort to work with people by talking with them, psychiatrists now don't even bother to do this: they simply prescribe dangerous psychotropic drugs which are either making them more ill or actually killing them.

The greater part of true deliverance ministry, as in psychology, consists of simply talking to people and helping them get their problems out into the open. A great deal of healing comes from simply doing this. Additionally, much searching prayer is involved as problems are taken to the the Divine Physician for supernatural healing. Only a tiny part of authentic biblical deliverance actually involves throwing demons out and even then it almost never involves high drama or 'exorcism'.

The lady who came to us for help had come under the influence of one of the charismatic 'exorcist'-type ministers who saw demons in every niche and cranny and who vainly imagined what was going on inside her. He didn't have clue what was really going on and ended up creating more problems than he claimed to fix.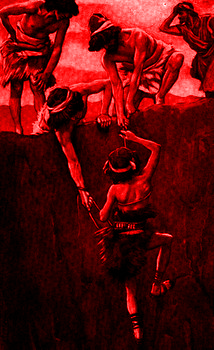 This kind of experience is, alas, not at all uncommon. We are reminded of Joseph who was thrown into a pit by his jealous brothers but who was 'delivered' from the by the eldest, Reuben, who then sold him into slavery. When he was hauled out of that pit he must have rejoiced at what he though was the moment of his liberation only to find that almost as worse was to follow.
Reuben had saved the lad's life for sure for his other brothers meant to murder him but we should never forget that his first 'deliverance' by Reuben was in reality simply exchanging one kind of bondage for another. Is this not common in much of the 'deliverance ministry' we see being offered? Joseph spent the better part of his young life as a slave and then as a prisoner before being catapulted into rightly deserved honour and glory as the second most pwoerful man in the land. Though Reuben didn't know it, he had been an unwitting instrument in the processes that lead to his own salvation, that of his father's entire household and indeed to many nations dying from starvation.
If you have been harmed by a deliverance minister operating in the spirit of Reuben - who wanted to help you but simply ended up making you worse - consider this: remember that Yahweh has a greater purpose for you still and a complete deliverance if you are willing to do things His way. The emet (truth) of the matter, as I have discovered, is that most people seeking deliverance don't actually want to be saved - yes, they want to be saved from the devil and his tortures but they don't want to be saved to Yah'shua the Messiah (Jesus Christ) - they want to be set free so that they can resume a life of sinning apart from Elohim (God). And the tragedy is that such people can't be fully delivered.
It may seem unbelievable to us sometimes but Joseph needed his experience in Egypt as a slave and prisoner to prepare him for his future as a deliverer and saviour of Israel. In this matter he was a type of Messiah Himself, being betrayed and suffering even though he was guiltless of the crimes he was accused of. Ever one of us has been messed up by both well-meaning and not so well-meaning ministers of religion who are themselves the victims of ignorance and tradition or have their own spiritual issues, who want to bless but are themselves bound in error, becoming as the blind leading the blind. Most deliverance is not of the theatric kind but takes place quietly over time as Yah'shua (Jeses) remoulds us little by little into His own image by the Ruach haQodesh (Holy Spirit). Sometimes there are dramatic events and I have seen plenty of these in my time but these are simply incidental to the main healing process - they are not the 'main thing'.
We have to get this Hollywood mentality out of the heads of believers. The Body of Messiah in the West especially is rapidly becoming a precocious, rebellious, entertainment-demanding, lazy, attention-seeking drama queen demanding a Disney World version of Heaven and a Heavenly Father who is little more than a sugar-daddy dispensing machine to be 'named and claimed'. This kind of false Christianity must die and indeed those who have seen the emet (truth) are leaving counterfeit and coming home to reality.
This is the dispensation of Joseph, the human archetype of the Suffering Servant. Deliverance for Joseph - the true believer - comes suddenly and unexpectedly but only after trial and tribulation and line-upon-line learning. Those who refuse to accept this will remain in their bondage or hide in some cheap counterfeit deliverance systsem, never getting saved, yet pretending all is well by psyching themselves up and keeping busy.
If you want to know about the kind of deliverance ministry practiced by MLT, please go to our Deliverance Page.