Month 8:10, Week 2:2 (Shanee/Matzah), Year 5935:210 AM
Gregorian Calendar: Saturday 5 November 2011
Chiefs and Indians
The Illusion of Internet Ministry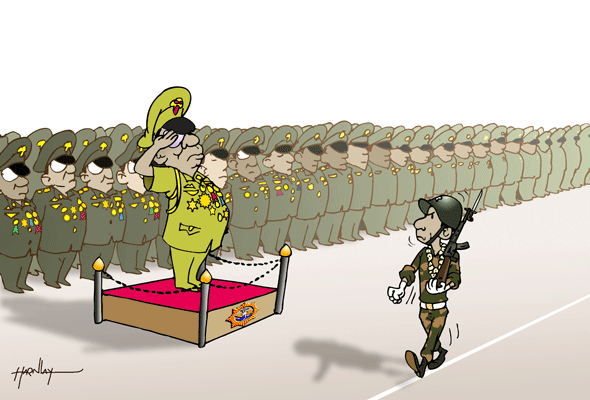 "And let us consider one another in order to stir up ahavah (love) and good works, not forsaking the assembling of ourselves together, as is the manner of some, but exhorting one another, and so much the more as you see the Day approaching" (Heb.10:24-25, NKJV).
In the world of childhood, everyone wants to be a chief and few want to be Indians. Most boys, at any rate, think they should be in charge. And in the artificial environment of school, which finds its nearest equivalent in the military (which what school is - a kind of military conditioning), a jockeying for power . usually bullyish and oppressive - takes place out of eyes of the teaching staff. Those who no leadership qualities, but with plenty of meanness and braun, end up as the 'chiefs' and the rest become they 'slaves' to taunt, exploit and bully.

Now the Internet can be just as ugly as a school ground. Character assassination, lying, deception, meanness, gossipping (lashon hara), smut, crime - you name it, it's there. It seems that no matter what pie unsaved and unrepentant mankind puts his finger into, he soons spoils it.

There was a time when we, as a ministry, had no presence on the Internet - we built congregations in Norway and abroad and we published a ton of literature. It was hard work, often painful, but it was real for the most part, though even in the flesh people are adept at putting up masks and pretending to be one thing when they are another too. Then Yahweh told me in a revelation to go onto the Internet and we have been there ever since. When the work in Norway collapsed owing to defections and apostacy, much of our effort was transferred to the Internet where a flourishing ministry has been found since about 1997. We established dozens of congregations abroad, principally in India, though some in Africa, but because of the severe restrictions in our economy and the fact that most of our 3,000 or so members were very poor, it was never possible to visit them. So the Internet was our main lifeline to them.

Don't misunderstand me, the Internet is a wonderful tool that has allowed us to reach millions which before we never could have done. Many who would have no contact with anyone because can maintain some kind of contact online. But there is something you lose in Internet ministry, and that is intimacy. Moreover, it is easy for people to hide on the Internet and never reveal their true face to you, something more easily seen when you are in the flesh. We have been tricked more on the Internet than we ever were in the flesh. False brethren who were just money-scammers (we have our stories from Moldova and Benin to tell of) and the internet is probably one of the quickest and best places to indulge in gossipping and character-assassination. We have been there, and painfully so, as I know many others have. But one of the worst things about the Internet as far as believers are concerned, is all the bogus ministries and churches pretending to be what they are not.

Another phenomenon of the Internet - which is what I wanted to talk to you about today - is all the self-appointed Chiefs out there: electronic 'apostles', electronic 'prophets', electronic 'pastors', electronic 'evangelists', electronic 'messianic rabbis', electronic 'teachers' - people slap labels on themselves and pose as great leaders who in real life couldn't lead a flea - spiritual boys and girls pretending to be adults. And I'm sure you'll agree, there is a lot of trash out there. There is a huge difference between cyber-community and the real world. And whilst you can fantasise in both, there are less checks and ballances and less accountability online than in the real world.

You don't need me to tell you that you need to be careful whom you put your trust in online, whether it be because of pedophiles or pseudo-ministers. Not a few monsters have used the internet to trap the young and unwary online and then lure them into the real world to take shameless advantage of them.

For all the benefits of the internet - and there are many - believers still need to assemble with one another and interact in the flesh. Talking with one another, looking each other in the eyes, singing and praying together, studying together, counselling together, shaking hands and hugging, ministring to the sick and to prisoners face to face, eating together, and so on, are an essential facet of besorah (gospel) life. Even churches and messianic assemblies whom you do not agree with on all things necessarily should be visited occasionally for that human contact, if at all possible, for like it or not, all believers do have SOME common ground. And we need to stand on that together every now and then, even if the people we meet with may asamble on the wrong day. We can assemble any time to worship.

Yahweh did command me to go onto the internet (Olive Branch, section 415.html) even though I had never used it until then and was suspicious of it. However, the internet is only a tool and not an alternative reality. It is an electronic wonder with a sell-by date as far as the eternities are concerned, and it won't be long before governments take it away from us through censorship. It's a great way to convey lots of information quickly and inexpensively but it has no objective reality. I have done deliverance ministry using it and people have prayed for me on it but it doesn't beat the real thing - ever.

Assemble together whenever you can - don't neglect it and especially not on sabbaths, new moons and the annual festivals! Find mature, experienced leaders who can guide you in the emet (truth) of Scripture. In the end we're all Indians, including the Chiefs!
---
Comments from Readers
"Thank you for this message. I am one of those who has not been in a church for now close to 4 years especially since there are no messianic congregations in my area. As a result I depend on your online sermons. But as a family we cannot all acess the messages so I am contemplating starting up a Messianic Evangelical congregation. Share any ideas please" (AM, Malawi, 5 November 2011)

Share