Month 3:5, Week 1:4 (Revee/Shavu'ot), Year 5935:061 AM
Gregorian Calendar: Monday 6 June 2011
The Excommunicators
Using Caesar as a Whipping Boy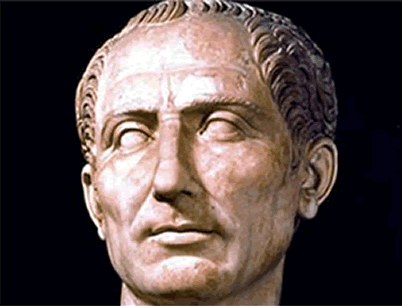 Excommunication is the exclusion of a member from the Messianic Community (Church) - be it from the local assembly or from an entire denomination or ministry (though some cults claim to exclusively represent the whole of Christendom or Messianic Israel) - due to serious offence, and sometimes due to an aggravation, through stubbornness, of a less serious offence. It is the final step in the negative side of normal discipline though can be taken to the next step - Anathema - which is the delivering over to Satan of those who hate Messiah (1 Cor.16:22). Such put themselves under a self-curse (Ac.23:14).
There is a scriptural disciplinary procedure to be followed in the Messianic Community (Church) where the commandments have been broken. When educative discipline fails to prevent offences, repressive discipline is used to remove them. The gradus admonitionis - or 'admonition by degrees' leading up to excommunication and disfellowshipment - are private remonstrances that are incumbant upon all:
"You shall not hate your brother in your lev (heart). You shall surely rebuke your neighbour, and not bear sin because of him" (Lev.19:17, NKJV).
If that proves ineffective, remonstrance with the aid of witnesses is required. Finally, the offender should be dealt with by the duly authorised representatives and leadership of the local congregation in a Beit Din or House of Judgment (Court), following the Torah-pattern:
"In the name of our Master Yah'shua the Messiah (Lord Jesus Christ), when you are gathered together, along with my spirit, with the power of our Master Yah'shua the Messiah (Lord Jesus Christ), deliver such a one to Satan for the destruction of the flesh (carnal nature), that his spirit may be saved in the day of the Master Yah'shua (Lord Jesus). Your glorying is not good. Do you not know that a little leaven leavens the whole lump? (see Chag haMatzah) Therefore purge out the old leaven, that you may be a new lump, since you truly are unleavened. For indeed Messiah (Christ), our Passover, was sacrificed for us. Therefore let us keep the feast, not with old leaven, nor with the leaven of malice and wickedness, but with the unleavened bread of sincerity and emet (truth).

"I wrote to you in my epistle not to keep company with sexually immoral people. Yet I certainly did not mean with the sexually immoral people of this world, or with the covetous, or extortioners, or idolaters, since then you would need to go out of the world. But now I have written to you not to keep company with anyone named a brother, who is sexually immoral, or covetous, or an idolater, or a reviler, or a drunkard, or an extortioner -- not even to eat with such a person. For what have I to do with judging those also who are outside? Do you not judge those who are inside? But those who are outside Elohim (God) judges. Therefore 'put away from yourselves the evil person'"

(1 Cor.5:4-13, NKJV).
Roman Christianity (and its Protestant offshoots) and Judaism alike have evolved, or taken beyond what the Bible teaches, the doctrine and practice of excommunication which historically has simply been an instrument of political manipulation or control of those who have refused to accept the political machinations of priestcraft. Thus Martin Luther and his early followers were excommunicated by the Roman Catholic Church for rejecting their unbiblical dogmas. Those who were excommunicated were, if they were physically apprehended, not untypically tortured and/or executed.
Under the Old Covenant you could either be "cut off from the earth" (Ex.9:15) - which meant dying - or you could be "cut off from among His people" (e.g. Num.15:30), "cut off from Israel" (Num.19:13), "cut off from the assembly" (Num.19:20) meaning a ban to assemble with Yahweh's people in worship, expulsion from the covenant community, removal from the covenant nation, or excommunication. Whether excommuncation also meant forfeiting your life depended on whether you committed one of the 25 offenses that required the death penalty.
What, then, are excommunicable offenses? The Bible lists them but sadly man changes Yahweh's laws and invents his own reasons for excommunication. I was once excommunicated from a church when I was a young man for not agreeing with its doctrines and practices and specifically, receiving revelation from Yahweh which though it agreed with Scripture did not agree with that church's traditions. It was a devastating experience but I stuck by Biblical emet (truth). Thereafter I left a couple of churches I disagreed with rather than let them humiliate me in one of their courts. In the church that did excommunicate me, was told afterwards that I had lost my salvation and that the Ruach haQodesh (Holy Spirit) would no longer administer to me, something I knew was a lie because the Ruach haQodesh (Holy Spirit) most certainly did minister to me and is not controlled by human organisations. However, a condition of membership in that church was that I uphold their belief system so they were perfectly within their rights to throw me out, something we need to remember if we join any group which has an official doctrine and practice in the form of creeds or a constitution. However, being excommunicated from such an organisation is not excommunication from the Kingdom of Elohim (God) if the rules of the excommunicating society are not in harmony with Torah.
Many Messianic groups take as their precendent for excommnication rulings made by non-Messianic Jews whose forefathers rejected Messiah and whose current members still do. Obviously, as a Bible-beliving Messianic Evangelical, I do not consider myself bound to the rulings of antimessiah/antichrist Rabbis. Only the Torah and the teachings of Messiah - the New Covenant or Messianic Torah - are the rules that we follow. So when the Talmud declares that Dina d'malchuta dina - "the law of the land is law", and that therefore we must "render unto Caesar what is Caesar's", we have to stop and seriously ask ourselves what is Caesar's and what is not.
If the unregistered Baptists during the Soviet times had obeyed Dina d'malchuta dina there would have been no evangelism, no converts, no baptisms and no assemblies. In short, the simple Gospel of Salvation would never have been preached, no one would have been saved and tens of thousands would have spiritually perished during the communist terror. But for some reason many Messianics and Evangelicals are telling us that whilst, yes, it was right for the unregistered Baptists to disobey Soviet law, those of us living in 'Western Democracies' must obey all the laws of our government as though capitalist countries were 'God's own states' where as communist ones were or are not.
We cannot make such arbitrary distinctions for Yahweh makes no distinction between the nations or governments of the world:
"For all the nations have drunk of the wine of the wrath of [Babylon's] fornication, the kings of the earth have committed fornication with her, and the merchants of the earth have become rich through the abundance of her luxury" (Rev.18:3, NKJV).
Does that sound to you as though Yahweh is giving carte blanche to capitalist countries? Does that sound as though we are to obey every single law, even those that condone spiritual and literal fornication, and subject ourselves to them? What, then, are we to do? And is disobedience to the laws of the land an excommunicatble offence?

The New Testament makes it clear that those of us who are living in exile from Theocratic Messianic Israel (and that's all of us) are to be subject to secular government laws in the economic sphere. We are to pay our taxes, however unjust, unrighteous or anti-Torah they may be - rendering to Caesar what is Caesar's since we use Caesar's money system. Yah'shua (Jesus) nowhere extended to Caesar the right to judge spirituality or morality save where that is in agreement with the Scriptures. If he had, He would not have inspired Peter to declare that "we ought to obey Elohim (God) rather than men" (Acts 5:29, NKJV). Things like sex, marriage, family goverment, child-raising, education and the like are subject to Yahweh's rules, not man's. Were we to "render unto Caesar" (Mt.22:21) by giving authority to the state to decide on morality, and start excommunicating our people for not endorsing state immorality, then we would in fact be excommunicating Yahweh!

What, then, is Caesar's? What belongs to the state? Money and righteous, temporal law-enforcement. If a believer is caught stealing, then the state has the Scriptural right to punish the offender. If a believer is caught speeding or drug-trafficking, then the state has the scriptural right to punish the offender. If the local assembly takes further disciplinary action it is not because the member is in violation of state law but because the member is in violation of Yahwehs Law (Torah). The only grounds for excommuncation are because a member has broken Yahweh's rules, not the state's. If the state exercises its Yahweh-given right to further penalise an offender, then that is none of the affair of the local assembly.

Therefore Dina d'malchuta dina, which was invented by Rabbinical Jews as a self-guard against persecution in Christian and Moslem lands, is totally unscriptural. The secular state has the right to appropriate to itself the right to legislate concerning those theocratic areas which the local assembly cannot exercise as exiles in a foreign land. We cannot, therefore, imprison or execute people. However we can, and must, rule ourselves when it comes to morality whether the state likes it or not. To use secular jargon, we have 'individual rights'.

One messianic group has started excommunicating believers who do not believe the state has the right to legislate on marriage because of Dina d'malchuta dina. Even if I do not like the ways and some of the theology of those being excommunicated, I cannot agree with the authority this group has assumed for itself based on the teachings of Talmudic Rabbis and a misapplication of Yah'shua's "give unto Caesar" teaching. The Western nations will, before too long, ban Christianity and the Bible - the Swedish government not so long ago wanted to outlaw the Bible because it did not comply with their anti-'hate' laws. The Bible survived that state's attempt to eradicate it by the skin of its teeth, though. Sucking up or bowing down to corrupt, antichrist governments does not impress me. Governments need to be made accountable to the people and to fundamental human rights and we're the only ones who can make them do it.

There is righteous and necessary excommunication but excommunicating people for obeying Scriptural morality is, in my view, a grave sin. Believers should get out of such groups. As I mentioned in a devotional two days ago, righteous men are not to live in servitude to other men, nor do they want anyone in servitiude to them, nor should they use Caesar as a whipping boy to make their members blindly submit to their unTorah ways and traditions. Some parts of the Gospel are not, admittedly, easy but that is no excuse to punish believers for being obedient to them. Let us return to pure Torah and forsake all human traditions along with those trying to impose those false traditions on the rest of us by coercision!

Share