13 March 2011 (Rishon/Pesach)
Day #362, 5934 AM
Crop Circles
Natural Pranks or Supernatural Messages?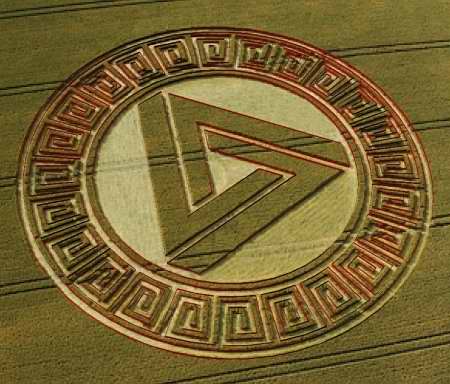 Continued from Part 5
Most people have heard of crop-circles and if you are like I was until recently, you probably think they are the work of pranksters, though I did entertain the theory that governments were covertly behind them too. After all, there are documented cases of pranksters making them, including a big court case in Hungary in 1992 when a couple of 17 year-old boys were prosecuted by a farmer for making one on his land.
The occasional pranksters aside, I have two objections to the theory that all crop-circles are man-made:
1. There are literally tens of thousands of them all over the world and some are of such intricacy and precision that it would not only take an international army of pranksters to create them but extremely clever ones too;

2. There is an unmistakable occult content to many of these circles.
One such alleged prank is shown in the video below. I cannot say whether it is genuine or not and even if it is a fake, the way the crop-circles were made in this clip (by UFOs) has been seen elsewhere by other eye witnesses. I am not decided one way or the other.

The array of crop circle designs is impressive and they are often very beautiful. You would have thought that if only pranksters were involved that a more diversified array of themes would show up in their designs like Donald Duck or the logo of the Democratic Party of the USA. But they don't. They are all 'serious-minded'. The pranksters, who seem to mostly want to debunk the occult/UFO theory, purposefully (it seems) focus on those themes to show that they can 'do it' and persuade us to drop any supernatural theories of origins. Why haven't they made anything else to show how clever they are? Just look at the collage of crop circles below and ask yourself the question: why these particular forms?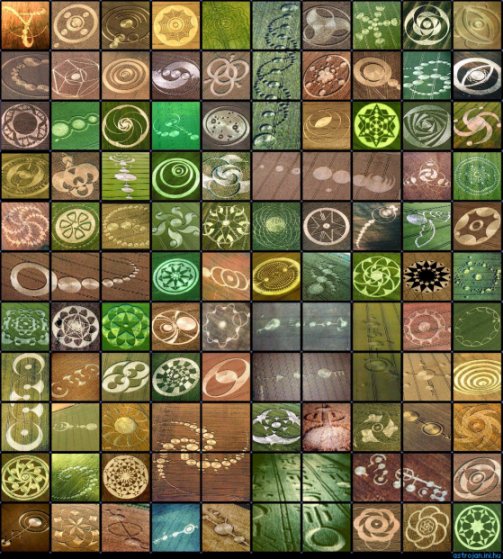 Now if you believe in extra-terrestrial aliens as being the source of crop-circles (I personally do not) then you still have difficult questions to answer: what's the point? If you were an alien wanting to make contact with another inhabited planet, and if you came from a more advanced civilisation, would you go around drawing mystical graffiti on fields, annoying farmers and getting people to ask questions they can't answer? What would you hope to gain if, for example, you didn't want to reveal yourself all at once so as not to cause too much panic in the population you were visiting? If you wanted to make contact, there would surely be far more intelligent and productive ways of doing so. Unless, of course, you viewed yourself as some sort of cosmic entertainer drawing pretty pictures for fun, or maybe you were just bored. Why would want to travel across space just to do that?
In my view, the only way that crop circles can be understood is by positing the theory that they are the work of ultra-dimensional beings (i.e. demons and nefilim) who want to keep people distracted, guessing and enchanted. I don't necessarily believe the video clip above is authentic and even if it is a fake, as has been alleged (the work of another prankster), it still does not rule out the possibility that they were made by visible UFO's or by invisible powers such as nefilim.
The scriptures for me provide an adequate answer to this problem of crop-circles:
"The coming of the lawless one is according to the working of Satan, with all power, signs, and lying wonders, and with all unrighteous deception among those who perish, because they did not receive the love of the emet (truth), that they might be saved. And for this reason Elohim (God) will send them strong delusion, that they should believe the lie, that they all may be condemned who did not believe the emet (truth) but had pleasure in unrighteousness" (2 Thess 2:8-12, NKJV).
We needn't waste our time with these phenomena, however fascinating. We're just being played around with by both malevolent forces and human pranksters...and maybe even governments. It is good to take note and offer explanations but otherwise we need to be busy with the salvation message.

Continued in Part 7

Share