8 March 2011 (Shleshi/Bikkurim)
Day #357, 5934 AM
The Expanding Earth
Will We One Day Be Compressed Again?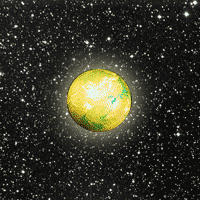 For quite a number of years I used to teach Geography and Geology in addition to my main subjects of Biology, Chemistry and Information Technology (and a few others like Mathematics), and during those years I used to parrot the conventional wisdom about Plate Tectonics.
This theory, as most of you know (if you paid attention during your Geography classes), rests on the assumption that the continents are floating around and drifting away or towards one another. The scientific belief is that they were all one large land mass called Pangea long ago. This 'conventional wisdom' also works on the assumption that the sea bed is spreading and that the size of the earth is today much as it was in the very beginning.
However, numerous researchers are now demonstrating that this theory has fundamental flaws in it and that the truth of the matter is that the earth may well be expanding now or have expanded in the past. Moreover, if the model is true, then it has expanded by as much as half since its very beginning (however long ago you believe that to have been). In other words, planet earth was orginally a lot smaller and there were no oceans except some shallow inland seas.
The Bible has its own take on this picture. It agrees that the continents were one land mass but that the separation took place within a single generation in a cataclysmic event akin to that of the flood in terms of its long-term effects on the environment:
"To Eber were born two sons: the name of one was Peleg, for in his days the earth was divided (palag, split)" (Gen.10:25, NKJV).
In other words, the land mass was "split" into the continents that we now have. Remembering that the patriarchs lived considerably longer than we did, the oldest being just short of 1,000 years, this means that the splitting and expansion of the earth would have taken several centuries, up to about a thousand years.

If this seems fantastic, consider what the Bible says is yet to happen:
"Now I saw a new heaven and a new earth, for the first heaven and the first earth had passed away. Also there was no more sea" (Rev.21:1, NKJV).
In other words, the earth is possibly going to be returned to its former state by an act of supernatural compression so that once more the oceans will be no more. We're going to get a new earth after Yah'shua (Jesus) has returned. If this happens to all the planets, including our moon, it may be the means by which the period of the moon is altered back to 30 days instead of the current 29¼ rather than by means of some close cosmic flyby by a heavenly body.

The big question then remains: why? All that happens in nature and in the cosmos generally is designed to teach us about Yahweh and our relationship to Him. I am not saying that this physical model totally explains what happened in the past or that it explains how the earth will cease to have oceans in the future, only that it is a very plausible one. We shall see what Yahweh reveals on the subject. In the meantime, I hope this will encourage you to explore new possibilities and to see for confirmation in biblical tavnith (pattern).


Further Reading

[1] Our Planet Earth is Expanding - a very simple presentation with good computer simulation models - just filter out all the evolutionary assumptions and dating.

Share