11 March 2010 (Chamashee/Teruah)
O My Soul!
Understanding Your Spiritual Anatomy
We live in a scientific world which likes scientific explanations for things. As a Biochemist I can understand that. I have a Greek mind when it comes to analysing the physical world. But when it comes to the invisible world, my Hebrew side steps in.
From the very first time I had an out-of-body experience as a boy I have been as curious about the internal, spiritual anatomy of man as I have been of the external, visible form we call the physical body. Before I became a Christian I sought answers in the occult, Buddhism, Hinduism and parapsychology. How was it possible for me to be outside my body and yet still be 'me'? Fairly early on I rejected the explanations of Jehovah's Witnesses, Seventh-Day Adventists, the Armstrongian Worldwide Church of God, Christaldelphians and many Messianics who claim that we are essentially our physical bodies with a divine spark or ruach which returns to God when we die, effectively terminating our existence. We are, according to them, no more than a complex computer program - a memory in God's mind which He will one day upload into a new resurrected physical body at the end of this world. This "soul-sleeping" doctrine I have long known was not true in spite of attempts by these people to bully me by saying my experiences had all been 'demonic' and therefore unreliable. You don't tell someone a banana doesn't exist when you hw has seen and tasted one and expect to be believed - neither should they expect you to respect them.
In saying this I am by no means saying that all people who have 'supernatural experiences' have necessarily experienced the genuine article. Some is unquestionably demonic, some is hallucination and some is fraudelent. And if it were not for my own experiences I probably would have remained sceptical myself.
What are we made up of? Are we just physical bodies with 'divine breath' on temporary loan (like electricity animating a PC) or is there more to us than that? Finding out what the Bible says is not easy as I discovered when I wrote my first serious Bible study. The JW's, SDA's and Herbert Armstrong advocates had bombarded with me with lots of Scriptures that left me confused. As a serious attempt to resolve that confusion I wrote my first little tome, The Bible Teaching on SOUL, in 1987, which became the mother of all my subsequent articles and sermons. I have since produced a second edition and refined it a bit. I recommend you read it even if it is a bit technical, and especially the conclusion. Putting everything the Bible says on the subject of the human 'being' together, I arrived at this diagram to explain the overlapping spheres of substances that make us up, a view I have had no occasion to modify in over 20 years: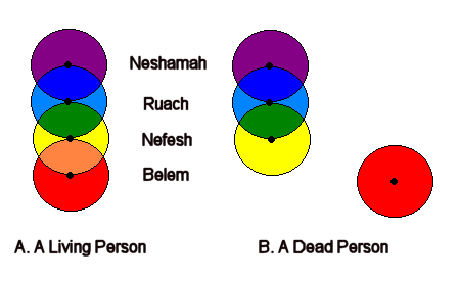 Labelling them in a way that explains their functions precisely is more difficult precisely because of their imprecise use in Scripture. What follows, then, is a subjective interpretation based on my own studies and experiences, remembering that each 'sphere' contains aspects of the one above and below it. What I have done is linked my understanding of the components of the soul to the 7 Festivals of Messiah, the Creation, The Heavenly and Adamic Families, and much else besides. The overlapping sphere are in lower cace and the four major sphere in UPPER CASE. Some of the items are, as I said, speculative and may need modification in the light of further understanding.
1
2
3
4
5
6
7
NESHAMAH
Neshamah-
Ruach
RUACH
Ruach-
Nephesh
NEPHESH
Nephesh-
Belem
BELEM
FATHER Yahweh
SON
Yah'shua the Messiah
MOTHER(S)
Ruach haQodesh
Adam
(before Eve's creation)
Father Adam

Mother Eve

Son (Cain, Abel, Seth)
Yom Rishon
Yom Shanee
Yom Shleshi
Yom Revee
Yom Chamashee
Yom Sheshi
Yom Shibi'i - Shabbat
Pesach
(Passover)
Chag haMatzah
(Unleavened Bread)
Yom haBikkurim
(Firstfruits)
Shavu'ot
(Pentecost, Weeks, Second Fruits)
Yom Teruah
(Trumpets, Loud Noise)
Yom Kippur
(Atonement, Judgment)
Sukkot
(Taber-
nacles, Third Fruits)
Light & darkness
Vault separating water
Land & sea
Celestial bodies
Fish & birds
Animals & man
Rest
Conscious-
ness
Sub-
conscious
Interaction
Intelligence
Will
Emotion
Physicality, mortality
Active
Passive
Ordering
Air (space, freedom of movement, expansion)
Fire (energy, force, thrust)
Water (fluidity, confirmation, passivity)
Earth (solidity, weight, resistance)
Gold (Au)
Silver (Ag)
Iron (Fe)
Quicksilver (Hg)
Tin (Sn)
Copper (Cu)
Lead (Pb)
Creative Principle I
(Ternary)
Creative Principle II
(Ternary)
Creative Principle III
(Ternary)
Created Matter Principle I
(Quaternary)
Created Matter Principle II
(Quaternary)
Created Matter Principle III
(Quaternary)
Created Matter Principle IV
(Quaternary)
Male position (to Mother & Son)
Female position (to Father)
Male position (to Son)
Male-female position
Male position (to Eve and sons)
Female position (to Adam)
Male position (as progenitors)
Hallowed by Thy Name (Yahweh)
Thy Kingdom come
Thy will be done
Give us our Daily Bread
Forgive as we forgive
Lead us not into temptation
Deliver us from evil
Michael
Gabriel
(Raphael)
(Uriel)
(Chamuel)
(Jophiel)
(Zadkiel)
Torah (Teaching, Law)
Nevi'im (Prophets)
Kethubim (Writings)
Matthew
Mark
Luke
John
Do
Re
Mi
Fa
So
La
Ti
Violet
(blue + red)
Indigo
Blue
Green
(yellow + blue)
Yellow
Orange (red + yellow)
Red
May Yahweh bless you in your further studies of the spiritual anatomy of man.

Share